var _gaq = _gaq || []; _gaq.push(['_setAccount', 'UA-45824147-1']); _gaq.push(['_setDomainName', 'davedominique.com']); _gaq.push(['_trackPageview']);
(function() { var ga = document.createElement('script'); ga.type = 'text/javascript'; ga.async = true; ga.src = ('https:' == document.location.protocol ? 'https://' : 'http://') + 'stats.g.doubleclick.net/dc.js'; var s = document.getElementsByTagName('script')[0]; s.parentNode.insertBefore(ga, s); })();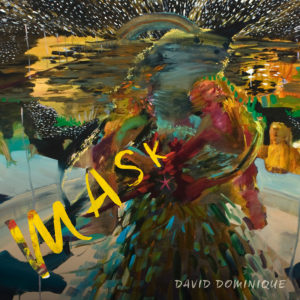 Praise for MASK (2018)
Los Angeles Times: "…this composer-bandleader's new album carries a high-octane, hard-swung pace that at times recalls the controlled chaos of the late Charles Mingus in exploring a sound that touches on big band swing, new music and metal…Dominique calls on a roster of talent from L.A. jazz label Orenda Records to help distill a time of recent personal upheaval into an exuberant, even joyful record that's as unpredictable as it is approachable."
National Sawdust Log, Steve Smith (NY Times, New Yorker): "Dominique and his bandmates tackle tunes that uncannily evoke the leader's state of mind as he processed loss and transience. Giddy energy and stasis are forced to coexist; themes appear and then vanish when lines that seem clear suddenly take sharp turns…His tight ensemble – young Angeleno hotshots closely associated with the innovative indie label Orenda Records, which issued Mask – dig in with enviable finesse and convincing swagger. "
BKLYNER: "Instantly familiar and wildly unpredictable…some of the songs on Mask can make you laugh out loud…unexpected and exhilarating."
Something Else! Reviews: "As a bandleader and composer, Dominique has shown a creative zeal for using traditional jazz as a springboard into the abyss, much as Mingus, Kirk and Lacy did…Brash and unpredictable, sure, but it's the swagger and sheer gumption that makes Dominique's mission impossible to ignore. Just when you think the music is about to settle too comfortably into a mid-century mindset, hollers or Noice's guitar squall zaps the music out of any impending lull. That's especially apparent on "The Yawpee," a song that packs ninety years of jazz history into four-and-a-half minutes. Whiplash-inducing big band type arrangements are deftly mixed in with Noice's metal rifts and short hints of other styles as well, then finishes off with a wild Baba viola feature. Dominique leverages the silence between notes on "Invisibles" to tantalize, then suddenly kicks it into overdrive with a screaming guitar."
Chattanooga Pulse: "…its dominant feeling is that of excitement, mixed with complex emotions, articulated with a tightand adept eight-piece jazz ensemble…With a turn-on-a-dime dexterity, the players roll with Dominique's abrupt starts and stops on the spirited opener "The Wee of Us," which swings heartily but also stutters intentionally and offers numerous tempo changes; its end winds down amusingly a bit like a turntable losing power…One of the standout elements on Mask comes on "Grief," which uses wordless vocals singing in unison with the primary instrumental melody; as the volume and intensity rise, some of the vocalists use an unforgettable and distinctive shout as a mournful and cathartic release."
Avant Music News: "Dominique's compositional style is quite varied, spanning jazz, rock, and modern classical. But his major influence, Charles Mingus, can be heard in Mask's idiosyncratic swing motifs and start-stop stylings…Dominique's effortless and complex themes involving a mid-sized brass section…The sense of playfulness that pops up from time to time is also reminiscent of Zappa…In sum, Mask covers a broad swathe of musical and emotional territory that goes beyond your run of the mill classically-influenced jazz/rock. And clocking in at just under 38 minutes, Dominique says what he has to say, then takes a bow. The result? A singular and compelling release. Bravo."
Style Weekly: "Mask, the new release by RVA-based composer/trumpeter David Dominique, is a surprise-laden, humorous, and occasionally pensive blast..There are straight-ahead Mingus-inflected sections, fluidly changing time, and spicy bits of acerbic punkish cacophony, all integrated into an almost classically discipline architecture."
C-Ville Weekly: "To understand the music of composer David Dominique, shuffle a playlist that features Charles Mingus, Sun Ra Arkestra, and Igor Stravinsky, then add in a few tracks from Sonic Youth. Known for his rhythmically complex and emotionally provocative avant-garde compositions, the Richmond-based William & Mary professor is so versatile that his work ranges from writing for a jazz octet to performing at Coachella, plus scoring the experimental theater work Starcrosser's Cut, 'a fictional, dreamlike reconstruction of the police interview after the arrest of infamous NASA astronaut Lisa Nowak.'"
Jazziz: ""…the poignant track Grief…illustrates the process of an artist in the midst of a profound change and intimate soul-searching process."
Auricular: "Peculiar & surreal bebop jazz with remnants of big band swing and avant-garde deviations. Technically exquisite and structurally assertive."
WTJU: "Composer/arranger/flugabone player/vocalist David Dominique offers a decidedly unique musical program full of diverse songs and stretched beyond-centrist musical stretches or pranks that make this disc unusual, a bit crazy and ultimately a good bit of fun…frequently quite intriguing, very well played and hip as it can get!"
Flat Hat News: "…the audience was filled with faculty, students and people from the Williamsburg community…Dominique and his ensemble gave passionate and invigorating performances that demonstrated not only their skill as musicians but as entertainers…At the end of the performance, audience members crowded out to the lobby and got the chance to purchase a copy of "Mask" as well as speak to Dominique and other ensemble members…The response of audience members was highly enthusiastic."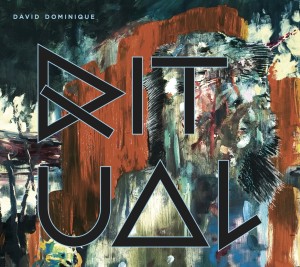 Praise for RITUAL (2013)
The Boston Globe: "And at his best, on a piece like "The Mulatto Shuffle," he can suggest one of his heroes, Charles Mingus, creating counter-themes among his warring horns that gradually rise and merge into one ecstatic shout…Dominique's humor is worth taking seriously."
New Music Box: "Ritual reminds me of the best parts of the tradition of "rock band plus horns," albeit with violin, flute, and flugabone…"
Downbeat Magazine: "A maximalist inspired by minimalists, composer David Dominique practices a rowdy, muscular brand of modernism. Picture Charles Mingus staging a hostile takeover of the Sun Ra Arkestra with arrangements by Sonic Youth…Dominique's band teeters on the fulcrum where discipline crumbles into anarchy…"
Procurement Records: "One of my top jazz albums of the year."
The Avant Music News featured an extensive interview about RITUAL, describing it as a "strong offering of aggressive modern compositions…"
Examiner.com: "Dominique has come up with a swinging rhetoric that evokes the grandeur of much larger big bands from the past, but that rhetoric is refracted through the sonorities of many sources that forged the path to what we now encounter in the 21st century…a wild ride."
Textura Magazine: "Like Threadgill, Dominique has an appetite for through-composed chamber pieces, as well as funeral dirges. But being through-composed doesn't rule out passion, and the material, especially when the rhythm section lends its blustery attack to it, is anything but genteel."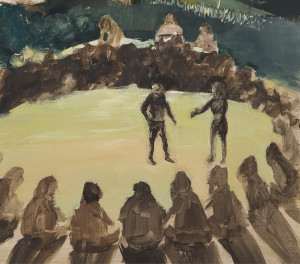 The Chattanooga Pulse: "…intricately carved arrangements and compositions that inspire fiery performances from his ensemble…choreographed outbursts and pounding rock-influenced drumming, are balanced with the smoldering, unhurried moments on Ritual, making it both compositional and emotionally complex."
SomethingElse!Reviews describes RITUAL as "packed with energy and unexpected twists…a soundtrack just looking for the right stage production to go along with it. The script would have to be cheeky, unpredictable and engaging in order to fit to this music."
Just Outside: "…tightly composed and performed, very well arranged (the band often sounds bigger than it is) with catchy, often boppish melodic lines."
The Jazz Weekly: "The sounds are free and driving, and are always on the verge of teetering over the cliff, but the vehicle spins the wheels fast enough to get you back on the road. A thrilling ride!"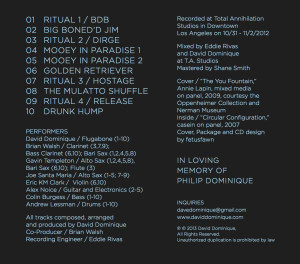 Memory Select: Avant-Jazz Radio: "Even lacking the size, it's got that big-band character, with forceful melodies barked out by the horns…It's all in service to David Dominique's compositions, which include nooks, crannies, and trap doors where the players get to improvise."
Music Writer/Scholar Paul Steinbeck: "…consistently energetic-brilliantly conceived and executed from start to finish. I'm reminded of Henry Threadgill, Sex Mob, Defunkt- some of the best horn-oriented music of the past few decades."
The Boston Counter-Cultural Compass, December 2013 issue: "RITUAL for example is like a Charles Mingus record, a comparison that hardly ever gets drawn in our world because nobody's got the right pencil. Well Dominique and his band have GOT IT. Interesting and unique big band arrangments make his experimental jazz compositions both fit in traditionally and stand out entierely in this day and age. We highly recommend picking up his self-released disc and getting to know this relevant musical mind."
The Avant Music News chose RITUAL as one of its picks of the week! I'm delighted to be in the company this week of The Chicago Modern Orchestra Project and Risset!
The Brandeis Hoot calls RITUAL "a powerhouse collection of innovative jazz…highly original and equally dynamic…raw riffs and energetic busts of sound…"
November 1, 2013: My forthcoming full-length CD, RITUAL, officially entered the manufacturing phase today! Release Date: 12/3/2013. Album artwork and CD Design (above) by Annie Lapin and FetusFawn.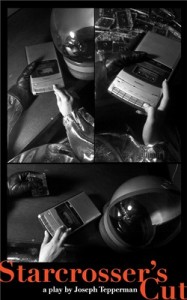 June 10, 2013: Check out this great review of opening night of "Starcrosser's Cut" from the Hollywood Reporter:
The musical composition by David Dominique never merely backs or underscores the action but instead comprises an integral component of the overall expression…Indeed, one could well perceive this as a contemporary classical chamber oratorio, for amplified voices, tape and a piquant ensemble of accordion, flute, viola and electric guitar. To open ears, the advanced tonalities harmonize euphoniously, if with a free-ranging dread.
June 6, 2013: The LA Weekly just published this extensive feature preview about our play, "Starcrosser's Cut". Opening night TONIGHT:
A New Play About the Scandalous Astronaut Lisa Nowak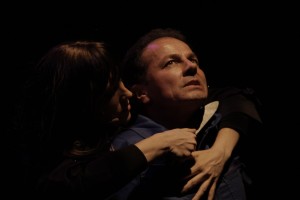 May 10, 2013: Dave has composed and will conduct a live chamber score for "The Starcrosser's Cut", a new 3-act theater collaboration with playwright/director Joseph Tepperman. The piece is a fictional reconstruction of the police interview after the arrest of infamous NASA astronaut, Lisa Nowak. We will perform the work on six dates in Los Angeles, from June 6-16. Details coming soon!