var _gaq = _gaq || []; _gaq.push(['_setAccount', 'UA-45824147-1']); _gaq.push(['_setDomainName', 'davedominique.com']); _gaq.push(['_trackPageview']);
(function() { var ga = document.createElement('script'); ga.type = 'text/javascript'; ga.async = true; ga.src = ('https:' == document.location.protocol ? 'https://' : 'http://') + 'stats.g.doubleclick.net/dc.js'; var s = document.getElementsByTagName('script')[0]; s.parentNode.insertBefore(ga, s); })();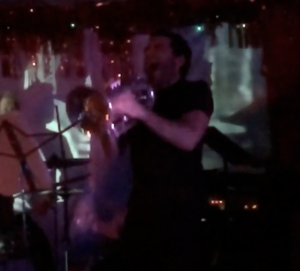 David Dominique is a composer, performer and music theorist living in Richmond, VA by way of Los Angeles, Boston, and New York, though not necessarily in that order. His compositional output includes contemporary chamber music, jazz, electroacoustic music, installation, rock and theater.

David's most recent album is Ritual, a collection of compositions for a unique jazz ensemble including flute, violin, clarinet, bass clarinet, alto and bari sax, valve trombone, electric guitar, electronics, and a driving rhythm section. The album was recorded in downtown LA with some of that city's most accomplished improvisers and contemporary performers and has been widely-reviewed and praised. David has led several performances of the works on the album with three ensembles in Boston and LA.
In 2013, David composed and conducted a live chamber score for a new theater work, Starcrosser's Cut. The piece was a collaboration with playwright/director Joseph Tepperman, with whom he last worked in 2011 on "Tongues Bloody Tongues", a critically-acclaimed experimental opera staged in Disney Hall's REDCAT by Killsonic. This year's experimental theater work, a fictional, dreamlike reconstruction of the police interview after the arrest of infamous NASA astronaut, Lisa Nowak, received six performances from June 6-16, 2013 in Los Angeles. The piece was featured and praised in multiple mainstream publications including LA Weekly, The Hollywood Reporter, USA Today and LA Stage Times.
David has also recently written pieces for soprano Tony Arnold, Talea Ensemble, ECCE, Ensemble L'Arsenale, the Genkin Philharmonic, the Lydian String Quartet, the Radnofsky Saxophone Quartet, the Formalist String Quartet, Nimbus Ensemble and Killsonic, a mobile band of horns, drums and accordions with whom he regularly played trombone between 2007-2010 while living in LA. His music has been performed and presented in New York, LA, San Francisco, Boston, Buffalo, Berlin, and Auvillar, France, among others. As a trombonist he has performed at such festivals as Coachella, Bumbershoot, San Diego Street Scene, and San Francisco Outside Lands. Planned projects for the Spring and Summer of 2016 include a new album for his Los Angeles-based jazz octet and a new evening-length theater work called Broken Record, in collaboration with Joseph Tepperman. Broken Record — for which David will serve is composer, conductor and co-producer — will receive 12 LA performances over four weeks in June and July.
David's research interests include the music of Beat Furrer, Charles Mingus, Eric Dolphy, and indie rock from 1967-present. In 2013, David presented his paper, "Loops, Filters, Interruption and Fixation in Beat Furrer's Invocation VI" at the national meeting of The Society for Music Theory in Charlotte, NC, The West Coast Conference of Music Theory, and Music Theory Southeast, where he received the "Best Student Paper" Award. He has been an invited speaker at Wellesley College, Virginia Tech, Harvard Summer Composition Institute and California State University, Northridge. For his compositions and research he has received awards from The Mellon Foundation, The American Music Center, The Max Kade Foundation, California State University, Brandeis University and the College of William and Mary. He has been an Artist-in-Residence at the MacDowell Colony, Djerassi Resident Artist Program, The Virginia Center for the Creative Arts, The Hambidge Center and Brush Creek Foundation for the Arts, with upcoming residencies at Arteles Creative Center and Fiskar's Village AiR program, both in Finland.